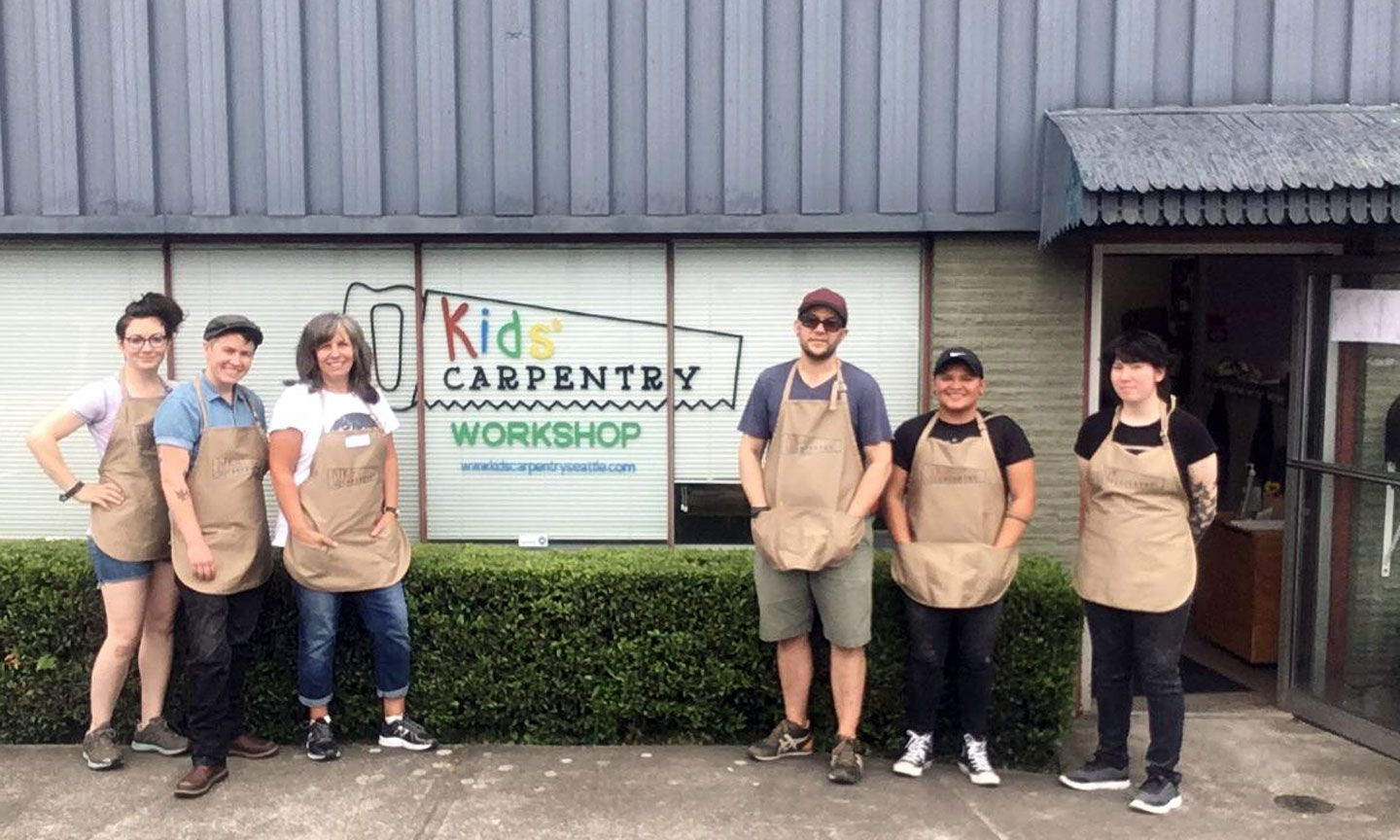 On this page you can learn about:
Our Story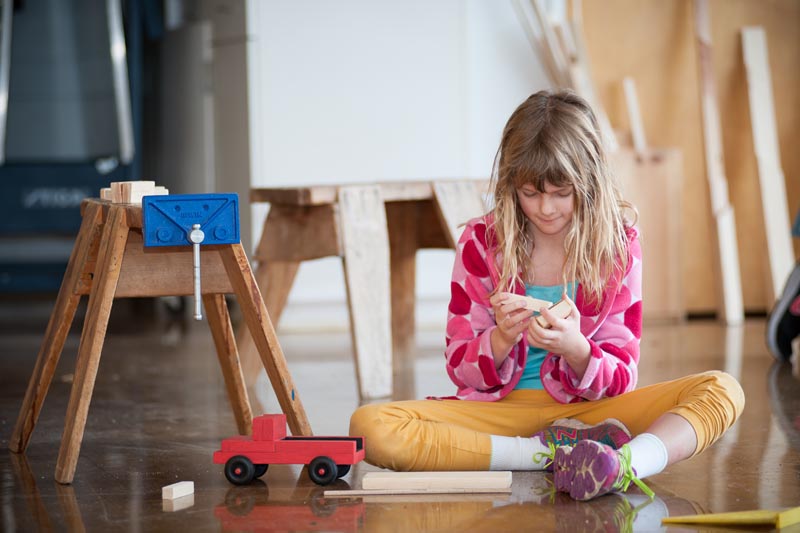 Kids' Carpentry was established in 1982 in Berkeley, CA. Since then, the program has engaged thousands of kids in hundreds of schools in the fun of wood working. It remains very popular among parents, educators, administrators and most importantly, kids.
Kids' Carpentry Seattle continues the tradition of building confidence and teaching with respect and humor in a safe and happy environment. In a world of screens and consoles, we are committed to capturing children's attention by providing quality programming through hands-on learning and engaging experiences.
Our Programs
Kids' Carpentry Programs are hands on building classes designed to teach kids practical woodworking skills with an emphasis on the safe use of hand tools. We offer several types of classes at our workshop or at your school or meeting place, many with opportunities to develop a project or program specific to your needs. A Kids' Carpentry Teacher will bring supplies, tools and wood to your location. Ready to get started? Contact us!
Summer and Break Camps
Half  day summer camps for kids ages 6-13 at our Columbia City Workshop and Community Centers throughout Seattle.  Camps run 3+ hours for 3-5 days. Our camps are a great way to immerse your young person in the thrill of woodworking! Themed and regular building camps are an great way for kids to try something new while gaining invaluable skills.  New in 2019: Girl Power, Puppet Theatre, Castles and Framed in Art
Weekend Classes
6-8 Week sessions run 90 minutes on Sundays in our Columbia City and Redmond Locations.  This is a unique opportunity for kids to construct fun and exciting projects while empowering them to become independent thinkers- building confidence, self-esteem, and a repertoire of practical skills that will last them a lifetime. Each child will go  home with 2 or more toys that have crafted and painted by hand.
Enrichment Programs
Before and after school programs are hands-on toy building classes for girls and boys ages 5-10 and are run through your child's school. Classes are 60-90 minutes and run for 6-15 weeks for groups of 6-10 kids. At the end of the session, each child will go home with at least one but often three or more wooden toys or games that they have made and painted by hand. Some on site storage is necessary. Contact us about adding Kids' Carpentry to your enrichment schedule.
Educational Programming
Kids' Carpentry Educational programming is designed to enhance your school curriculum with hands-on wood construction learning opportunities. All classes are designed to align with Washington State K-12 Learning Standards in your area of study. Programs can be developed together with teachers to meet the specific needs and goals of your classroom. Have an idea for a program? Contact the Educational Programming Coordinator to get started.
Breaks Camps
Half days and short breaks can be a great time to run a specialized program. A Kids' Carpentry teacher will design a program just for you and bring all the materials to your site. Program length varies from as little as 2 hours to a full week of camp and can serve a group of 10-30 kids.
Home School Programs
Kids' Carpentry for home school groups are designed to teach a wide variety of skills and concepts for girls and boys ages 5-13. Student carpenters gain quality experiences in measuring, applied math (including fractions), problem-solving and craftsmanship, and as a result are empowered by the hands-on experience. Classes are 60-90 minutes and run for 6-15 weeks for groups of 6-10 kids. Classes can be held at your location or in our SoDo workshop.
Scouting/Group Events
Kids' Carpentry would love to design a project for your group, school, club or troop. We will work with you to design and teach a project to a group of kids using minimal power tools and maximum involvement. We can create opportunities for kids to be involved in the entire design process or just the fun of building it while we teach basic carpentry and safety techniques. <ref="/contact/">Contact us to get started!
Our Teachers
Loren Kite — Director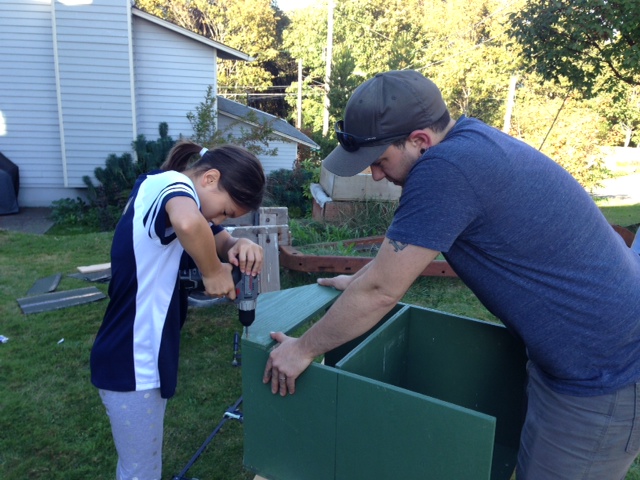 Loren grew up picking through his father's garage for his next big adventure. He has very fond memories of carrying around his first hammer and all of the work they did together. Their glory eventually lead him to a BFA in Production Management from the Theatre School at DePaul University and an AAS in Carpentry from Seattle Central's Center for Wood Construction. Loren has worked for youth and children's theatres in Chicago and Seattle. In his free time, Loren builds cat and human furniture and dreams up new and exciting Kids' Carpentry Seattle projects.
Loren has been teaching Kids' Carpentry since 2009 and is thrilled to be leading the Seattle branch of this exciting program. Loren has great relationships with kids and knows from experience how patience and positive attention can make a big impact. He is excited to share his enthusiasm with a new generation of eager carpenters.
Jessica Long — Educational Programming Coordinator
Jessica is an educator with nearly 15 years of experience working with kids both in and out of the classroom. Whether teaching gymnastics, science, reading or carpentry, she values strong relationships with kids, learning together and opportunities to witness that moment when a kid achieves something they didn't know they could do before. As an elementary and classroom teacher, Jessica has built her skills in collaboration to design projects that engage and inspire. Jessica teaches classes in Columbia and Hillman City.
Sue Dellario — Teacher
Sue is AWESOME! As a Grandmother of three she brings lots of experience with patience, love and understanding. From raising horses to raising kids, Sue knows what it takes to capture kids attention and get them excited about building. New to carpentry herself, Sue understands the struggles and joys of turning nothing special into something extraordinary. Sue is excited to be expand her carpentry skills while learning more about the way kids learn and interact with hand tools. Sue teaches classes on Capitol Hill, Magnolia and Ballard.
Nicole Dillman — Teacher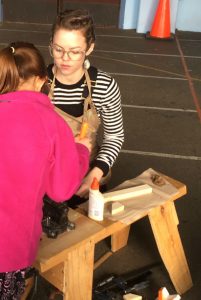 Nicole Dillman is a Washington state certified teacher with a Masters in education. Her background is in Special education supporting students with complex social- emotional, behavior and sensory processing needs. After noticing how hands-on projects positively impacted her students' learning she was inspired to join Kids' Carpentry. She believes that Kids' Carpentry fills an important gap in education, providing opportunities for students to develop perseverance, fine and gross motor skills, math reasoning and work ethic. She believes all children deserve a chance to see themselves as makers.
In addition to teaching, Nicole is an artist and community activist developing curriculum for youth programs in Lake City with her partner and co-owner of Hellbent Brewing Company. Nicole is grateful to be part of such a unique program and enjoys seeing young carpenters work together. You can find her teaching at a variety of schools in North Seattle and Queen Anne.
Daniel Curiel — Teacher
Dan is a Washington Native and a recent graduate of Central Washington University where he studied Scene Design and Painting. He started with Kids Carpentry as a summer Assistant Teacher and now he teaches all by himself all over Seattle. Dan is passionate about art and is excited to blend his love for beautiful things with a need to create. Look for him in West Seattle, Beacon Hill, Capitol Hill and Bellevue. 
Caitlin Elhers — Teacher and Social Media Guru
Caitlin is a farmer from Michigan who loves the wet rainy winters of The Northwest as much as she loves its Tokul soils. Though she has no formal training in carpentry she loves working with her hands and can appreciate the satisfaction of completing something from start to finish. While Farming takes up more time then she ever thought imaginable she still manages to teach classes 6 days a week while dreaming up more sophisticated projects for kids who just can't get enough carpentry.  Caitlin teaches in Lake Forest Park and on the East Side. 
Media Coverage of Kids' Carpentry Programs
Related Programs
Kids' Carpentry Bay Area: The parent organization of Kids' Carpentry Seattle, the Berkeley-based program has taught thousands of kids in hundreds of schools of over thirty years.
Coyote Central: Programs in Seattle for kids 10-15 in woodworking and other mediums.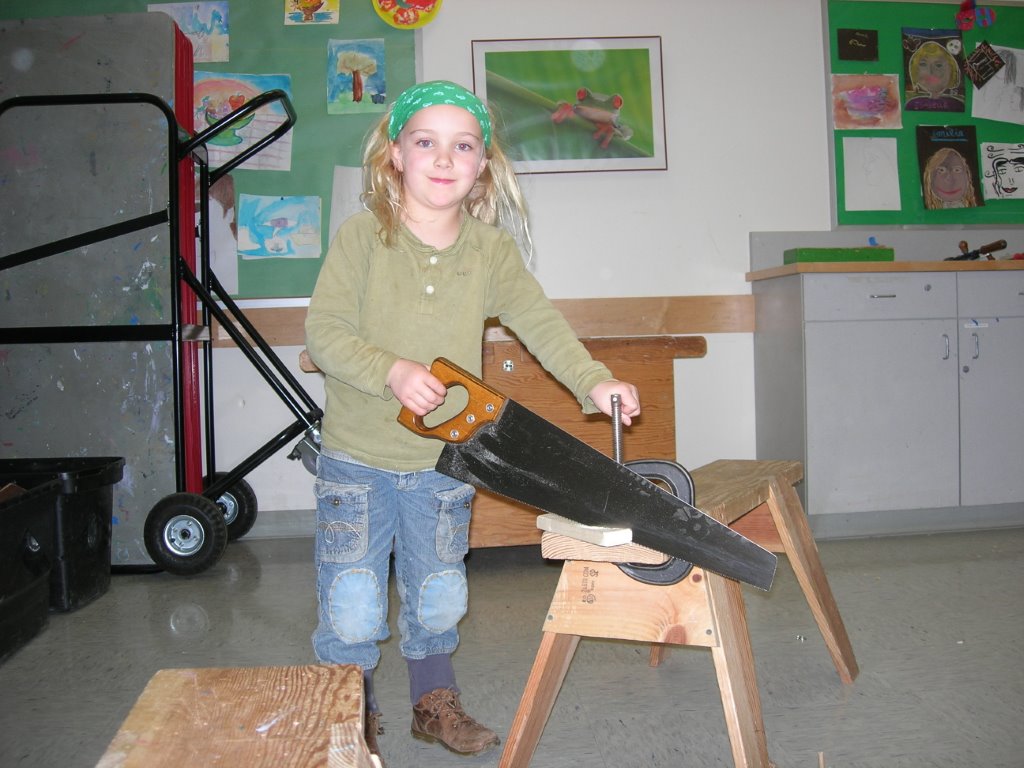 Location
Our Workshop is next to the Columbia City Library!
4739 Rainier Ave S. Seattle, WA 98118.